Goal Zero Luna LED Light The Luna is a 1 watt USB stick light that is handy to illuminate anything from a keyboard to tent. The Luna's low power draw makes it a long lasting light solution. Powered from any USB port or perfect when used with Guide 10 Plus or Goal Zero Switch 8.
---
Related Products Goal Zero's newest product, it holds a single charge for phones, fitness trackers and other small devices. USB rechargeable and Solar Ready for off-grid adventures.
---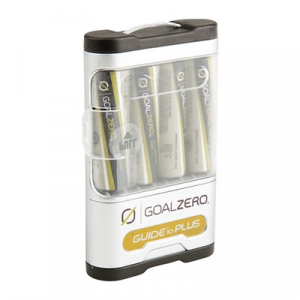 Guide 10 Plus Recharger- Go-anywhere, rechargeable battery pack keeps your handheld gear going strong. Charge AA/AAA batteries from the sun or any USB port, then power your phone, MP3, GPS, or perk up your tablet in a pinch. Directly charge a smartphone...
---
Goal Zero Lighthouse Mini Lantern
---
1 watt LED with 10 bulbs or light. Rated for 20. 000 hours of use. Can be powered from GOAL ZERO power packs or any USB. 9 inch Snakelike bendable cord lets you secure Luna around objects.
---
Plugs into any USB port and adjusts for light at any angle with on/off switch on the tip. Light: 10 white LEDs, 1 watt. LED rating: 50 lumens, 400K LED. Weight: 1.6 oz (45.4 g). Dimensions: 18 x 0.34 in (472.4 x 8.6 mm).
---